The stock boost was more than enough but somehow, my hands started to itch for a 'lil bit more power. Thus I ordered the HKS EVC IV Black Limited; and got it installed onto the ER34.

The HKS EVC IV is a full-featured digital electronic boost controller that utilizes a precision "closed-loop" boost regulating stepping motor. Stepping motors are used because they can handle higher boost levels and are quicker to react to various conditions, thus offering quicker boost response and higher stable boost levels throughout each gear.

The unit is adjustable up to 2.5bar (36.25psi) of boost pressure and incorporates a real time digital boost and vacuum display. One can setup 2 boost levels (one high and one low) to accommodate for varying power needs. If a short burst of additional power is need, there is a scramble boost feature will add a specified amount of additional boost over the current boost setting for a preset duration between 1-30 seconds. A darn cool feature!
Pic 1: HKS EVC IV has landed!
Pic 2: This is whats inside the box
Pic 3: A closer look

I mounted the display unit where the ashtray used to reside. Ditched the ashtray and covered the hole with a carbon fibre panel. Then the display unit is mounted onto the carbon fibre panel. The controller unit is mounted below the dash under the TCS button. Yea, this is where my HKS Turbo Timer Type 1 used to be. The stepper motor is mounted in the engine bay with around 6ft of Samco hoses replacing the stock rubber vacuum hoses.

After installation and adjusting the boost from the factory 0.5 bar to 0.8 bar, the ER34 is a joy to drive. More power is available lower down, I could just drive and shift at 3,000rpm - 4,000rpm and that would make me happy for my daily commute to work and back.

After setting the boost to run at 0.8 bar and driving the ER34 for a couple of days, I encountered some problems. The ER34 experiences power cut (I think its fuel cut) intermittently at high revs in 3rd, 4th and 5th. This would be pretty dangerous if one were to be on full throttle into and out of a sweeping bend. The abrupt power cut could unsettle the balance of the car in mid corner. Not something I want to experience at all! I have got to dial the boost down to be below that of the factory ECU's fail safe level. Any higher boost will require a new aftermarket ECU at the very least. I think I will run on 0.7 bar for now. Of course one can trick the factory ECU via electronic units such as the HKS Fuel Cut Defender and Apexi Air Fuel Ratio Controller but I'll rather not go that route of tricking the ECU. An Apexi Power FC would be nice but it's just way too costly for me...... :(

The higher boost level now also brings out another problem. The turbine is giving out an audible clatter at above 4,500rpm. Perhaps the shaft is loose. I have no idea how long more the turbine can stand but I sure do hope it will hang in there lest someone offers me a cheap replacement aftermarket unit. :P
Oh darn, with a non-cooperative wallet, it's a such a pain to 'play' with the ER34.
Pic 4: The display and controller unit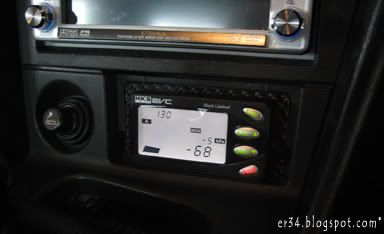 Pic 5: A closer view of the display unit
Pic 6: 6ft of Samco hoses out from the stepping motor