If you have read about my constant raves and rants about the car having some electrical problems under Low batt and a fried amp?
, you would have empathized with the sort of irritation I've been having with the car.
Pic 1: Stock Pitwork battery - NS40L

I finally got time to try another suspected cause of the problem. Change the battery!! If it still fails, then it has to be the battery cables.

Anyway, one fine day I sneaked out from work to do some shopping. Well, it is unbelievable that one CANNOT find a maintenance free battery the size of NS40L. And this is after going to perhaps 5 workshops and calling up some spare parts shops. Crazy!

Darn it. I finally decided to try my luck with the NS40ZL. The difference between the two is the location of the terminals. In the NS40L, the terminals are located inwards towards the engine while the NS40ZL has its terminal location outwards towards the car front bumper. Fitted it in and thankfully enough, the cables are long enough to reach the + and - terminals. Phew..... and I nearly resorted to ordering a set in from overseas. LOL :D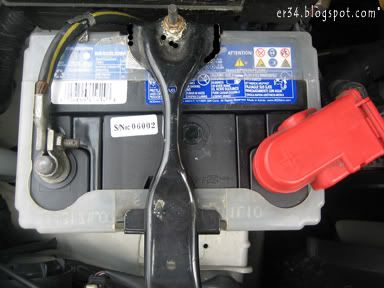 Pic 2: AC Delco Maintenance Free Battery - NS40ZL
Anyway, the battery I used is from
AC Delco
, a brand that I have been using since my days in my previous ride. Have no qualms about its reliability and being black in colour is a plus point. :P

Once fitted, I'm a happy camper. Gone are all my electrical gremlins. Now the car feels good without my constant worries of it going dead in the middle of the road.