God I was out of touch for a while. Been a 'lil busy to update my blog.....
Anyway, did my 50,000km oil change on the 12th January 2007. Yup, you guessed it right, in came the Q8 Formula F1 10W-50 with original Nissan oil filter (Part No. 15208-53J00). This time round I also added in the

Lubegard Bio/Tech Engine Protectant

. This stuffs claims to reduce engine oil temperature which is a problem I'm having.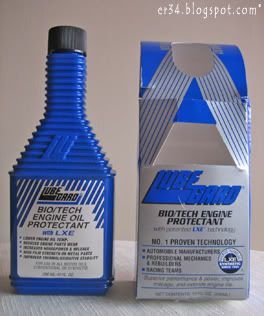 Pic 1: Lubegard Bio/Tech Engine Protectant
I've recorded 115 Degrees Celsius on prolonged high speed runs on the highway and also on 10th tenth enthusiastic driving. :O

This is indeed getting worrisome. I desperately need an engine oil cooler!!