Pic 1: The Skyline owners
Well what a way to end year 2006!!!
We had a gathering among the Skyline owners on Friday, 29th of December 2006. All started to roll into the meet up location at Piccadilly Restaurant & Cafe in Millennium Square, Dataran Millennium PJ from 9:00pm onwards.
It's a spectacle to see over 30 units of arguable the best export out of Japan all together. We have a multitude of different Skylines from the R32 GT-R till the R34 GT-R and everything in between. In addition, there were quite a few of the Nissan 350Z as well plus a couple of the S15 Silvia.
Anyway, it's nice to meet the owners of the same make and model and we had a wonderful time checking out each others rides. In some what of a contradiction, the group that I was with was drinking beer the whole night.

Hmmm.......this is the first time I drink alcohol during a car club gathering. :P
Anyway, it's great to meet you guys and hope we can do this more often. Perhaps this year I can and I will spare more of my weekend time for drives around our local hill resorts.
Eh, wait a minute I need to get my brakes done first. Sigh.........
Some pics of the night as below.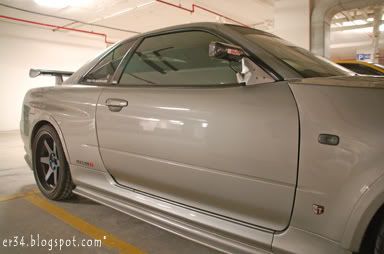 Pic 2: R34 GT-R with Tomei RB28 engine. Drool......
Pic 3: Crazy quad exhuast pipes!! Aussie style mate!
Pic 4: Row of the Nissan 350Z
Pic 5: The Skylines. Mine looks damn tame. :(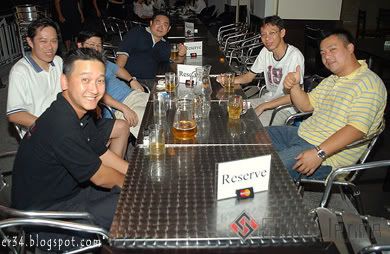 Pic 6: The beer lovers club!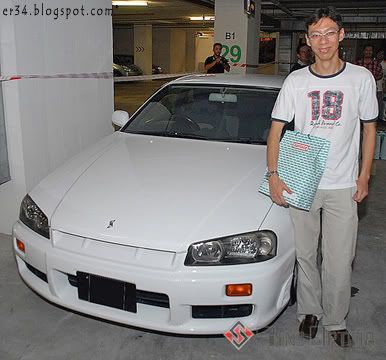 Pic 7: Yours truly. Thanks to CONOCO for the goody bag!