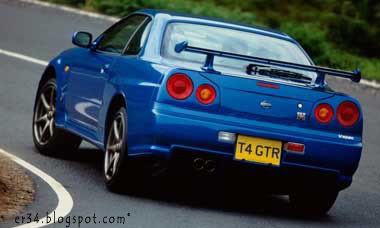 I recently read an article on UK's MSN Cars on the Top 10 most dangerous cars. Dan Trent, a motoring journalist wrote down his opinion of the Top 10 most dangerous cars on our roads. And his list goes like this....

1) AC Cobra
2) Mercedes 300SL Gullwing
3) Nissan Skyline GT-R (R34)
4) Porsche 911 GT2 (996)
5) Ferrari F40
6) Renault Clio V6
7) Lotus Carlton
8) Peugeot 205 GTI
9) Lamborghini Miura
10) TVR Tuscan S

You guessed what caught my eye. A BNR34 as one of the most dangerous cars? WTF!! This is what Dan wrote about the BNR34,

"Accepted wisdom has it that the Skyline is so high-tech as to be virtually uncrashable. Just keep your foot in and the black boxes will do the rest, right? Partly so. Sure, the armoury of abbreviations and innovations - from ATTESA ET-S PRO torque distribution to Super HICAS four-wheel steering - all contribute to the GT-R's formidable cornering power and Porsche beating performance. And driving a Skyline can be like a video game made real. But personal experience proves the danger comes when you discover all the electronic brain power in the world can't actually over-rule the laws of physics. And that skidding off into the barrier requires more than hitting 'restart' on your PlayStation control pad. "

Geez......makes me wonder.