Pic 1: Nice statue in Bandung
I was in Indonesia last week and thought I'll share some snippets of my travel there.........

Upon touching down at the Soekarno-Hatta Jakarta International Airport, I bought a bus ticket to Bandung. The ticket is very cheap at IDR 60,000 (USD 6.50) one way. Bandung, located 180 kms away from Jakarta is the capital of West Java and Indonesia's third largest city.

So what's in Bandung? Nothing much actually. Some of the 'attractions' like the Cihampelas Walk (Ciwalk) and Braga City Walk are not interesting at all. There were quite a few factory outlet stores though. :)

Moving around in Bandung is kinda fun. The local transport is called angkot which is a modified minibus that's able to squeeze in up to 18 passengers!! Crazy eh? But one got to be very careful as many muggers/pickpockets operate on these angkots.

Some of the interesting rides I saw in Bandung are a Honda CR-V and a Toyota Frontier with 22 inch wheels and 265mm width tyres!! Madness eh?

Oh yea, Bandung is constantly raining! I've never experienced heavy rain 5 times a day!!! After two nights here, I took a bus back to Jakarta where I spent a night before flying back to Kuala Lumpur. Now Jakarta is a city of extreme contrast.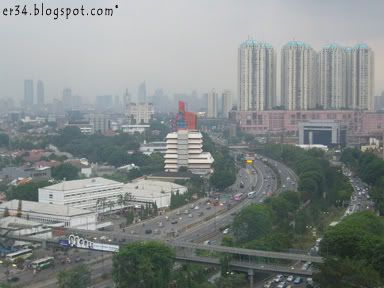 Pic 2: Jakarta city view from my hotel room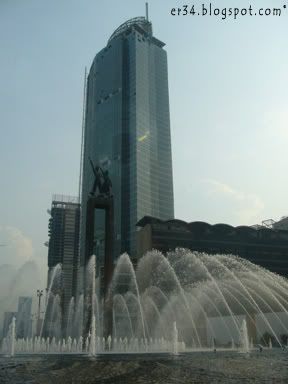 Pic 3: Welcome Monument built in 1962 by President Sukarno
Here you find posh shopping malls selling designer items but outside the main door you find the other extreme, i.e. the poorer folks loitering around the dirty streets. Here, either you are rich or you are poor. The gap in between is so huge in comparison that it's beyond comprehension why there exists little or no middle ground.
The city of Jakarta is not a safe place to be in. Cases of mugging and robbery are so common even the taxi drivers themselves can be muggers!! My advice is to travel only in the most reputable taxi provider, i.e
Bluebird
. Any other taxis that you travel are a risk in terms of safety and cut throat fares.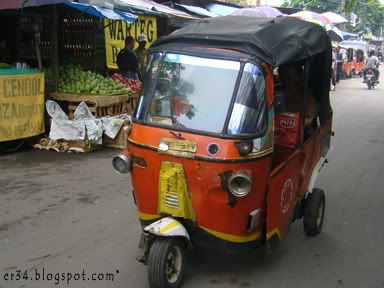 Pic 4: A typical bajaj in Jakarta
Besides taxis, bajaj
(a form of motorised 3 wheel rickshaws)
operate every nook and cranny of the city. These are interesting transportations not unlike those used in Thailand
(tuk tuks)
. But I will not recommend anyone to try them due to the high mugging cases on board.
During my stay in Indonesia, my icthy hands bought another car model. Yes, what else, it's another Nissan Skyline. I came across a 1:18 scale model of the BNR32 that were potrayed in the Japanese anime Inital D. Yes the very one driven by Takeshi Nakazato of the Myogi NightKids. The model is made by
Jada Toys
and impulse buying got the better of me. And hey, it was on 30% sale!!!
The quality was kind of bad actually, can't compare at all to my rest of my Skyline models by Kyosho and Autoart. Oh well.....
Anyway, here are some pictures…..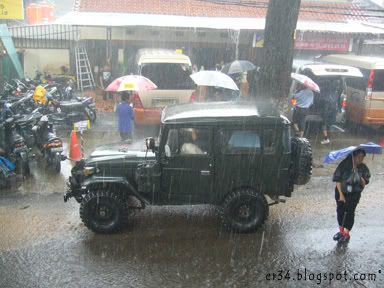 Pic 5: Yes it rains and rains in Bandung!!!
Pic 6: Small time traders in Bandung offering their expertise in sign making
Pic 7: Funny statue in my hotel lobby at Jakarta. No durians OR durians encouraged?? :P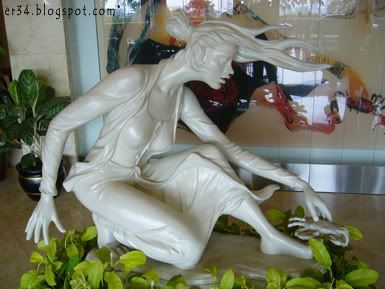 Pic 8: Another funny statue in my hotel lobby. A crab bit a women's toe?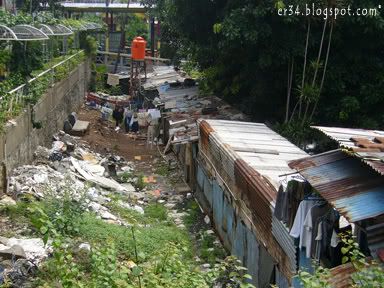 Pic 9: Poor living condition of some Jakarta folks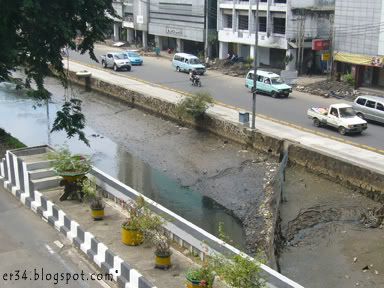 Pic 10: Dirty muddy clogged river/drain?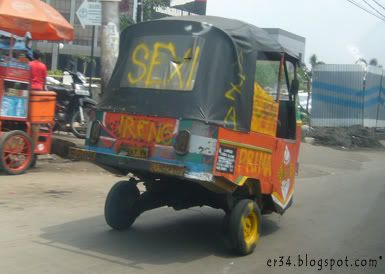 Pic 11: This bajaj think it's sexy?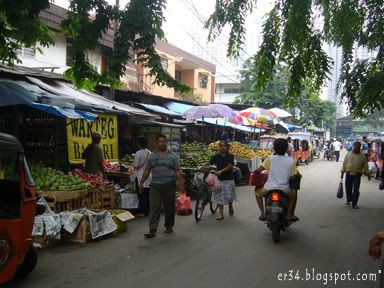 Pic 12: A morning market in Jakarta. Felt damn uneasy here...
Pic 13: My NightKids BNR32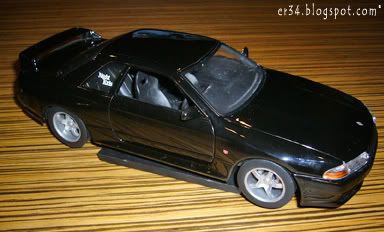 Pic 14: Quality and details can be better