Well well......ain't this becoming a common occurrence?? This is the third time the boost pressure sensor hose split it edges. The last time in September '06, I told myself IF it failed again, I'm gonna look for a stronger hose to replace it.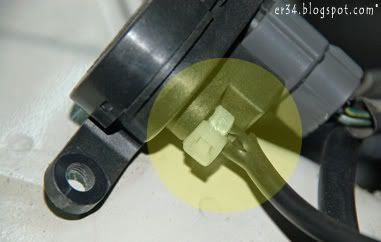 Pic 1: Boost sensor hose split yet again
Pic 2: Yea it split up pretty bad

Guess I lied to myself. Hehehehe ;)
I got out my trusty angle spanner and remove the unit, amazingly my zip tie theory worked pretty well as evident in pic 1 above. It actually held the hose in place firmly.
Pic 3: So many zip ties ???
Now that it's proven to be effective to secure the hose via zip tie, I'm gonna do the same thing but instead of a single zip tie to hold the hose to the boost sensor housing , I've added 5 smaller zip ties around the base of the inlet to minimize the chances of it splitting again. After doing the above job, I got the feeling that I've just fixed the thing as if it's a Datsun 120Y. Hey!! A Skyline deserves better treatment that that right?!?!?
Pic 4: Jolin Tsai practising for her concert. At times like this I wish I had a 300mm lens for my camera.
The best part when doing the above is being entertained in the background by Jolin Tsai practicing for her big concert tomorrow. The concert venue is just next to where I stay.

Hope the above fix works.........fingers crossed.