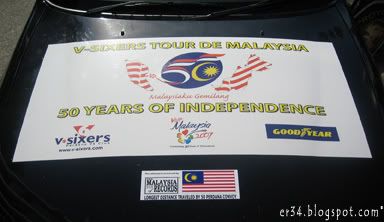 What does V•Sixers: Perdana V6 Club has to do with this blog?? Well, the club holds a very dear place in my heart and I can't resist blogging about their latest excursion for the year 2007. The club is creating a new Record Run for Malaysia Book of Record. They will be convoying a minimum of 50 units of the Proton Perdana around Malaysia crossing 10 Peninsular States with approximately 1800km for 4 days & 3 nights.

This event is held on Merdeka Eve to Celebrate 50th Years of Independence, hence the 50 units of Proton Perdana in convoy. The event will begin on the 31st August 2007 until the 3rd September 2007. The convoy will journey through the below route:-

Kuala Lumpur - Penang - Terengganu - Johor Bahru - Kuala Lumpur

I was at the flag off event, and it's a joy to see members from all walks of life working together in full camaraderie towards realising the clubs' dream of securing a place in the Malaysia Book of Record.

In line, with the Visit Malaysia Year 2007, it also serves as a promotion on behalf of the Tourism Board of Malaysia. With all the cars fully "stickered-up" with decals from generous sponsors it's really a sight to behold. All of the vehicles are equipped with communication devices; from rigs to handies to simple FRS radios.

Below is the video I took during the flag off session. A total of 54 cars were flagged off from the Malaysian Tourism Centre in Jalan Ampang, Kuala Lumpur.
I'm very proud of the club, the committee and the members. Let the sprit be alive and the flame of togetherness be of equal if not greater proportions since the inception of the club in 2001.

V•Sixers Rocks!!!!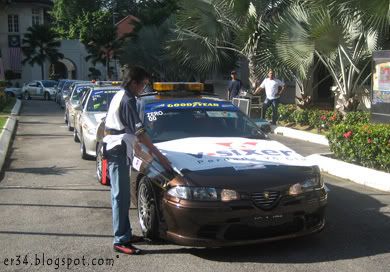 Pic 1: Zero car at the flag off
Pic 2: Some of the participants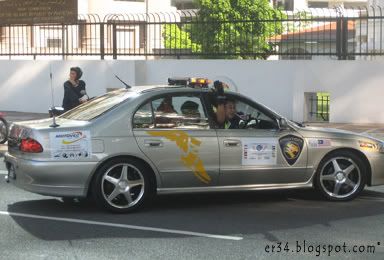 Pic 3: Isma in the Control car