Well well....so much for the infamous Teins. First it produces groaning sound over speed humps, now it leaked at the rear. Specifically, the rear right hand side of the vehicle.
Pic 1: Leaky Tein Super Street

I send it back to the distributor to take a look and they were quite surprised at it. They thought I abused it but I have never tracked the car (yet!) nor drifted in it (ho hum!). Well if I do, it's supposed to withstand the 'abuse' anyway.

But regardless, they took in my case. Got the leaked suspension removed, cleaned, o-rings changed, oil and gas replaced FOC. :P
Excellent!!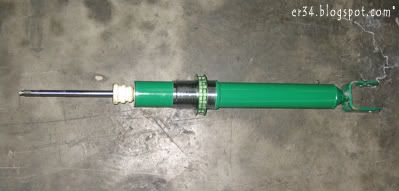 Pic 2: Squeaky clean and serviced Tein Super Street
New Damping Rates

Well, since I'm at it, I've decided to re-adjust the damping rates. The
previous adjustment
of 17 out of 26 clicks in front and 20 out of 30 clicks at the rear are totally
WRONG
!!!
The Tein Super Street should only have
16 point adjustments
front and rear. Found out that the
CORRECT
way of adjustment is to dial it clockwise to the max, i.e the hardest setting and reduce the damping rate from there onwards to a minimum of 16 clicks. Anything more than 16 clicks does absolutely nothing!
So what's the new rate? Decided to dial 6 clicks down, thus its 10 clicks out of 16 clicks all round. Initial impression is that it's a tad too stiff. Perhaps the rear should be 2 clicks softer else any passenger at the rear will bound to vomit after some enthusiastic driving. LOL :P
On the positive side of things, the ER34 corners much better now. There's noticeable improvement in roadholding now.
Cool, can't wait to take it up some touge roads....